Something that features a lot on my blog is skincare and if you've been here for a while you will know that I love to try new skin care products and change up my skin care routine when needed.
Over the past few months I feel I got myself stuck in a rut with my skincare and although my skin had went through some changes I wasn't changing my routine to keep up. I started having more breakouts than normal and they were taking much longer to heal than I am used to.
Back in the summer I was sent some Skinician products to try and they had remained unopened because at the time I was pleased with the products I was using and was almost too cautious to try something else in case I undid the good results I'd been having. Fast forward to mid November and my skin was crying out for some TLC. I headed straight to my skincare drawer to hunt out something to help.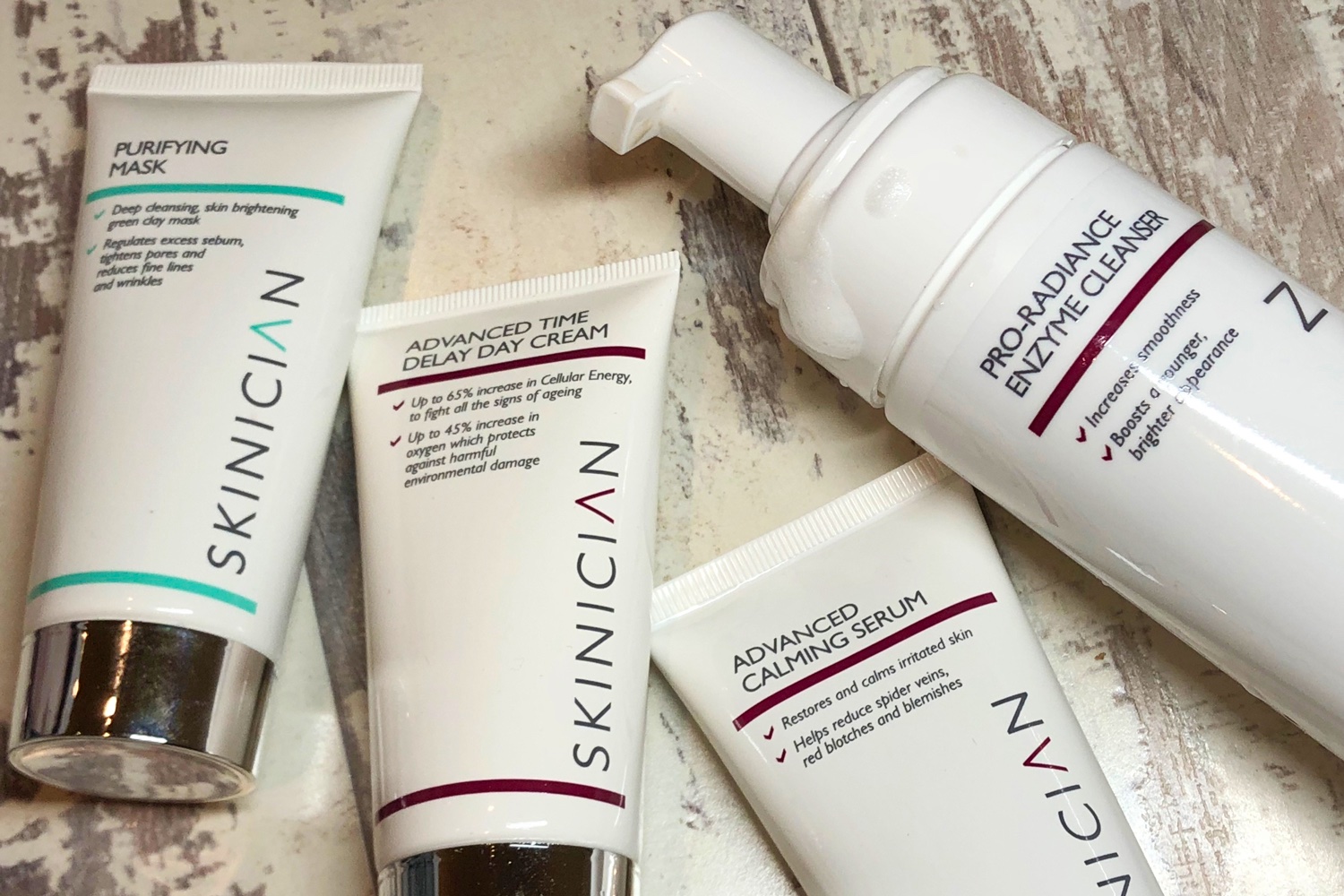 The products I received were tailored to my skin type, I have combination skin which can change with the seasons but generally will have areas of both dryness and oiliness AND sensitivity at any one time. The products I was sent and have been using are:
♡ Pro-Radiance Enzyme Cleanser 150ml £27.50
The Pro-Radiance Enzyme Cleanser is a foaming cleanser that comes in a pump bottle which I far prefer over tubes or pots. The cleanser exfoliates and cleanses and the ingredient prickly pear helps to encourage the natural renewal process of the skin.
I use the cleanser with my Clarisonic Mia 2 and find my skin feels squeaky clean and refreshed afterwards. I'd love to say I have a full skin care routine day and night but in the real world I will use the cleanser every night and occasionally in the mornings when I have more time – maybe a twice a day routine should be a 2018 Resolution for me?
HOW TO
Double cleanse face and neck area daily – both morning and night. Using fingertips, gently massage with damp hands onto the skin in circular movements. Rinse with tepid water.
EXPERT TIPS 
For maximum results, ensure cleansing lasts for 30 seconds.
---
♡ Purifying Mask 50ml £25.25
This clay mask is great to control excess oil and refines the pores. With ingredients including seaweed extract and liquorice which control inflammation and hydrate the skin.
Skinician recommend you apply a generous amount of the mask once a week, when I began using the mask I was using it 2 times a week and noticed quick results. Now I have dropped down to once a week and focus the majority of the product on my t-zone where I would be more oily and on any hormonal breakouts.
HOW TO
Use once a week as part of your facial routine. Apply a generous amount to your face and neck in an upward direction, avoiding the eye area. Once evenly applied, leave for 10 – 15 minutes to fully absorb and nourish the skin. Rinse thoroughly with tepid water.
EXPERT TIPS 
Apply to individual breakouts as an on-the-spot treatment.
---
♡ Advanced Calming Serum 50ml £41.50
The Advanced Calming Serum has a cool refreshing feel when applied. The liquid/gel like formula protects the skin from environmental damage. Containing anti-inflammatory ingredients that work to reduce irritation or tenderness associated with sensitive skins including rosacea, ance and dermatitits.
Again I use the serum after cleansing in the evenings and feel it gives my skin an added boost in the morning.
HOW TO 
Apply daily after thorough cleansing to face and neck area, avoiding contact with eyes. Use over your moisturiser to allow skin to be protected with SPF.
EXPERT TIPS
Use as an overnight treatment to support skin repair.
---
♡ Advanced Time Delay Day Cream 50ml £39.50
Finally the Advanced Time Delay Cream is a lightweight moisturiser with SPF15 protection – a must have in my daily skincare routine. Containing anti-oxidant rich ingredients to repair and protect against environmental damage.
Unlike the other items I always start my day with the Advanced Time Delay Day Cream. I always ensure to use and SPF product in the mornings. I use Double Wear foundation which also contains SPF10 as contrary to popular belief you don't have to be in a sunny country to be exposed to sun damage.
HOW TO 
After cleansing and toning, apply generously to the face and neck area with fingertips, taking care to avoid the delicate eye area.
EXPERT TIPS
Use in conjunction with Skinician Advanced serums for maximum anti-ageing effect.
---
Overall since I began using my Skinician products I have found my skin has completely balanced out. I have got the best of both worlds with the four products which can help with dryness, oiliness and sensitivity. I have really been enjoying using the products for over a month now and they have completely changed up my skin care routine.
I just wish I had started using the range sooner and definitely want to try more products – do you use any Skinician products?
Thanks for reading,

• Kirsty •