I've written before about my quest to find the ultimate self tanner. I've been using Rimmel Sun Shimmer Self Tan Mousse A LOT recently and it has quickly become my favourite drugstore tan.
The tan retails for around £4.99 which is extremely reasonable for the 150ml size. I use the Dark Matte colour and apply with disposable latex gloves – you can pick them up super cheap on Amazon. The light mousse formula means you can see the tan going on and it massages into the skin quickly and easily. There was no transferring onto bed sheets/clothing and no wet/sticky feeling to the skin when applying.
The best thing about the Sun Shimmer Mousse is that it is completely odourless when developed! There is a subtle baby powder smell upon application but once the tan has developed (even before showering) there is no smell at all… dreams really do come true.  I apply the tan in the evening and it claims to takes an hour to develop, however I tend to leave it until the next morning to shower off the top layer and I find this works well.
I can get a good 4-5 days out of the tan before it needs to be scrubbed off to start again – not bad for an instant tanner.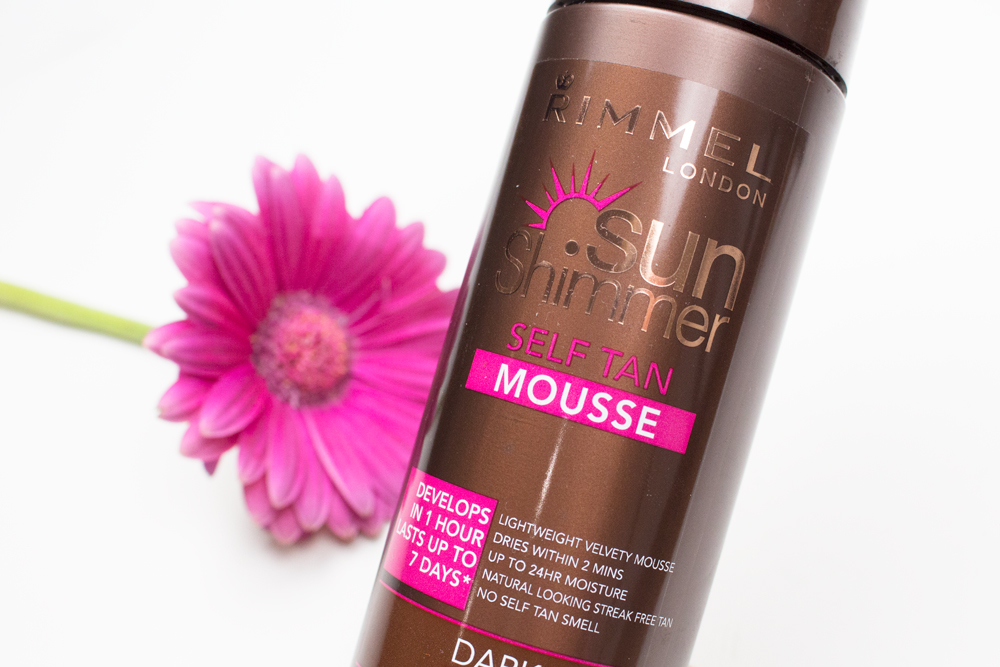 Self Tanning Tips
My number one rule for tanning is to always exfoliate and moisturise the day before you want to tan. Some people recommend moisturising straight before applying the tan but this just creates a barrier on the skin and when you apply tan over the barrier it can result in a patchy and uneven tan.
Shower before applying tan to ensure all residue of any deodorant, moisutrisers, body oils or perfume are completely gone.
Start at your ankles and work your way up to your shoulders to prevent any strange marks from bending over yourself.
To ensure you don't get super dark knees, elbows or ankles – apply a small amount of moisturiser over the area after the application- this will prevent those orange joints!
Don't put tan on your face – unless it has been purposefully made for the face, chances are a tanning product will clog your pores and eventually lead to breakouts. Instead simply buy a foundation that matches the colour of your tan and you're good to go.
If you have a complete tanning disaster and need it removed pronto.. take a bottle of diet coke and pair of exfoliating gloves to the shower and you'll be fine.. no seriously, they use diet coke at high fashion events to remove dodgey tan from the models – if it's good enough for them…
Products from Amazon.co.uk
‹
›
Have any of you tried any tans by Rimmel? What is your all time favourite fake tan? I would also like to know how you might search hair stylists on google, let me know how you find the best.
Thank you for reading!

• Kirsty •