I was offered a free ticket to Jessie J's Alive tour in Belfast and of course I said yes despite only really knowing a few of her songs. We got down to the venue early, around 7pm because she was having a 'Very Special Guest' as her support act. After queuing for around 20 minutes and getting searched – in the rain – we finally got in the doors. We found our seats and sat patiently eating Starbursts and watching everyone flood in below us in the standing area.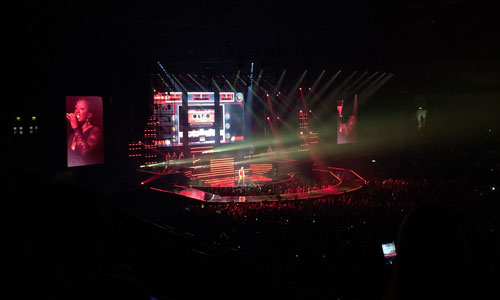 We waited, and waited, eagerly anticipating the special guest but nothing seemed to be happening. There was a female DJ on stage playing a few songs but she couldn't have been the special guest as she seemed unknown to everyone and the lights were still on as people were still arriving. By 8.30pm we knew something wasn't right, at first we thought there was some kind of technical problem when we spotted some bodies running on and off the stage. Finally at 9pm the lights went off, at this point we were still expecting the 'Very Special Guest' but it turned out to be Jessie J's opening song.
Despite the tickets being marketed and sold saying there would be a very special guest, they weren't actually performing in the Belfast of Dublin shows. The guest turned out to be Lawson who I really would have loved to see, but I guess Ireland (North and South) are just the forgotten venues!
Anyway, the show started and from the very first song, Big White Room, everyone was up on their feet singing along. She came out wearing a beautiful embellished one-piece costume with a cutaway chiffon skirt.
It was the very first night of her first ever arena tour and she spoke so well about the hard work she had put in and her journey from the start to getting where she is now. She was very reflective during the night, and took moments of silence and you could see she was very emotional.
I had a dream when I was a little girl and it was to have an arena tour.
Throughout the night when she left the stage for costume changes, old videos of Jessie as a child and teenager were played. It was great to see where she had came from, and her early performances on stage as you don't often get to see what a celebrities life was like before they were in the public eye.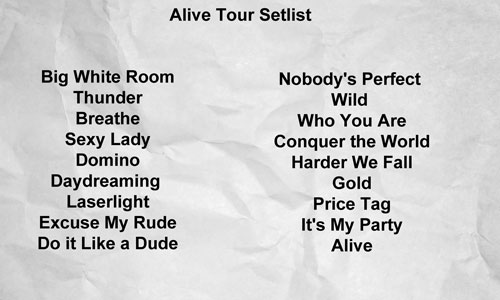 She performed 18 songs all together, and with 4 dress changes she kept everyone on their feet all night! We noticed that she had changed her lipstick with every dress change – talk about attention to detail. At the end of the show there was a confetti explosion and everyone was on their feet applauding the brilliant show.
As I said before, I went only knowing a few of her songs and liking her music, but not loving her. I can now say I have been converted, the first thing I did when I got home that night was download her new Alive album and I have been listening to it on repeat ever since! Despite the disappointment at the start of the night, Jessie more than made up for it with her captivating performance, and the next time she comes to Belfast I will definitely be there.
What was the last concert you went to?