I can shamefully admit that I used to be a nail biter. I bit my nails on and off from around the age of 8 until 15 when I finally stopped the habit! My nails took a long time to get back to a decent condition and strength, any time I tried to grow them long they would go flaky and break so easily. I used every cream and oil treatment out to try and strengthen them.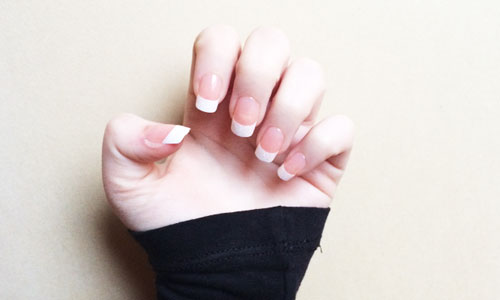 Recently my nails have been great, they grow relatively quickly and rarely break. My holy grail nail product is the Sally Hansen Miracle Nail Growth. I use it religiously as a base coat every time I paint my nails (I've repurchased it at least 5 times), and I'm currently using Rimmel London's Finishing top coat which is amazing – so fast drying and long lasting!
I received the sparkly french tip Bradway imPRESS nails in the October Glossybox. Although I wouldn't have picked up this particular design out of all the nails the brand offers, I thought it would be a waste not to use them.
I put the nails on before a night out and was pleasantly surprised with the ease of application, literally took no longer than 5 minutes. I used the prep pad to cleanse my nails before application, laid out the ten nails that fitted best, peeled of the plastic tab and placed the nails down starting from the cuticle. I applied some pressure for around 5 seconds and that was me – done!
I am all about efficiency and this product is right up my street. The adhesive on the nails is just as good as any nail glue I have ever used, without the mess and hassle of applying it. The nails didn't fall off but I removed them, just be gently peeling them from the sides. They didn't damage my nails at all unlike nail glue/gel nails/acrylics can.
One thing I would say is these nails were quite long, I trimmed them down after a few hours wear as they were just too long for me to manage. But that didn't really bother me too much and was easily fixed to suit what I wanted.
I would definitely purchase more imPRESS nails, I'd go for something a little crazy and brighter next time!
Have you tried imPRESS nails? What did you think?