After recently treating myself to three of the Bourjois Colour Boost lip crayons – I was a bit late to the party – I decided to do a quick review post as they really impressed me!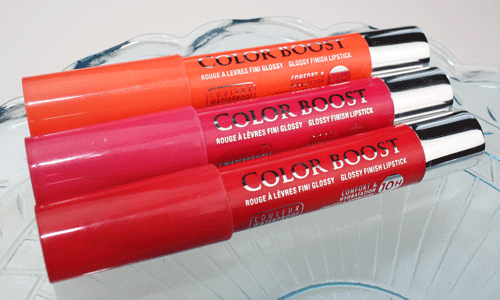 I was hesitant to purchase any of the lip crayons after having tried Revlon's Lip Stain and not liking it at all. From the sticky formula to the minty smell, the Revlon Just Kissable lip stain was not for me.
But after reading so many good reviews about the Bourjois crayons I had to give them a go, and they have quickly become my go to lip product. I bought three shades – Orange Punch, Fuchsia Libre and Red Sunrise, a colour for every occasion!
The lip crayons have a melting formula which allows the colour to glide onto the lips. The colour payoff is fantastic and build-able, so you can chose between a subtle slick of colour or a dramatic lip. They are so moisturising and a dream to apply, no fuss.
They have no distinct smell or flavour to them, and although I am partial to a fruity smelling lip product I would much prefer no sent to a scent like that of the Revlon stain.
Available at Boots for £7.99
Have you tried the Bourjois Lip Crayons? What is your favourite shade?