Another month, another favourite product! This month I've been using my NYX Lingerie Liquid Lipstick in the shade Push Up almost every single day.. In previous posts I've spoken about my obsession with Lime Crime liquid lipsticks – and it's fair to say I never thought a drug store formula would come to close to my love for my OG Lime Crime lippies.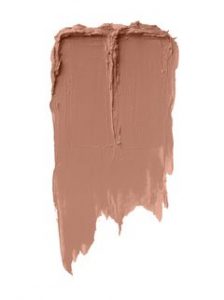 The NYX lipstick is a pinky peachy brown nude that reminds me of Velvet Teddy by Mac. The formula itself is super comfortable on the lips, it feels quite buttery upon application and although it sets dry and matte it doesn't feel drying on the lips at all. I find the lipstick lasts well, only needing a touch up after eating – other than that it doesn't budge until removed!
The colour pay off is fab, one swipe gives a solid colour – I find this is important with matte lipsticks because the more you have to go over the lips to build up the colour it can give a really crumbly, thick look which really isn't the look I'm going for..
Overall for a drugstore brand I have been super impressed with the Lingerie lipstick and definitely see myself investing in some more colours soon – if you have any suggestions for shades I should get please leave them below!
Thanks for reading

• Kirsty •