How on earth it is the end of June is beyond me, I can't believe we are entering the second half of the year already it feels like 2017 has gone by in a flash so far. Seeing as it's summer and the weather here in Northern Ireland currently looks like something you would expect mid-November,  I have been getting my glow on from a bottle rather than any sun rays.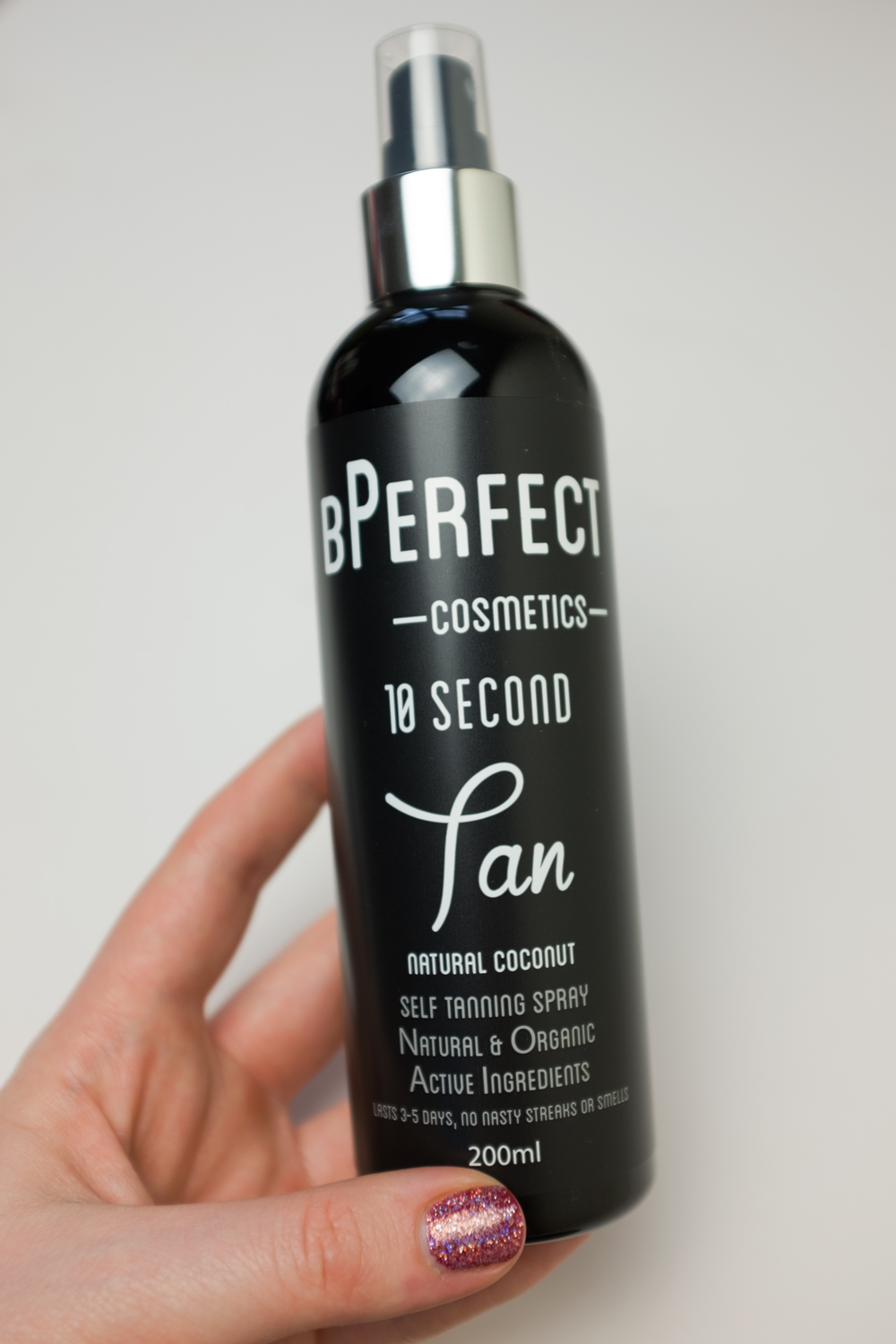 The tan I've been reaching for most this month is the bPerfect 10 Second Tan in shade Natural Coconut. There are a couple of reasons the tan quickly became my go-to, number one being how incredibly easy it is to apply. I find after exfoliating, shaving and prepping the skin with any moisturiser the whole tanning process can become pretty tedious… but not with 10 second tan! You can slap the tan on so fast and with no risk of it being patchy at all – I apply using the bPerfect Velvet Mitt and find it works extremely well!
You can see the tan going on which I love and there is no waiting about for it to dry, once I'm finished I'll just get dressed straight away and it doesn't effect the tan at all. The consistency of the tan is quite watery which was a little strange at the start as I am so used to using a foam but in my opinion the formula means you use a lot less product and there is a lot less waste compared to a thicker foam product.
I tend to apply the tan at night before bed and wake up like I've been to the med overnight. There is a slight coconut scent from the tan but nothing too overpowering and definitely no old school 'biscuit like' self tanner smell. I really love that the Natural Coconut shade gives a natural looking tan but still looks like I actually have a tan rather than some competing products that are almost too natural. The tan retails for £24.99 but is quite often on offer in my local Gordons chemist.
At the minute I do a layer two nights in a row and when I moisturise after every shower I get a full week out of the application no problem. It doesn't go streaky or patchy while washing off but fades extremely evenly and I'm totally overusing this word but looks completely  'natural' along the way.
Have you tried the bPerfect 10 Second Tan?
Thanks for reading!

• Kirsty •