I don't know about you but I always value an extra 20 minutes sleep over getting up early to look presentable.. for this reason I feel like I've got putting my face on super quickly down to a T. It takes me under 10 minutes to do a full face of makeup in the morning for work and today I'm going to share the products I tend to go for on the days when I'm in a hurry and need it to go right first time round!
I am still using and loving Temple Spa skincare products so I will quickly cleanse, tone and moisturise using their sensitive range – Be Gone, Toning Essence & Double Truffle.
I put my foundation on straight after the moisturiser and it acts as my primer. My holy grail foundation is Estée Lauder Double wear and I am in the shade Ivory Nude or Ivory Beige on my fake tan days! I apply it using a damp Real Techniques Miracle Complexion sponge as I find this gives me the most even coverage. I then go in with Estée Lauder eyeshadow base in Halo on my eyelids to cancel out any veins or redness and to create a smooth base for my eyeshadow to apply on to.
I do change up the brand of eyeshadow I use so I can get good use out of my rather extensive collection of palettes, but at the minute I'm loving my Meet Matte Nude palette from the balm. I use the shade Matt Garcia in the outer corner and under my bottom lash line then blend Matt Singh over the lid and highlight my brow bone and inner corner with Matt Malloy. Some days I will apply a thin line of liquid eyeliner but other days I simply can not be bothered!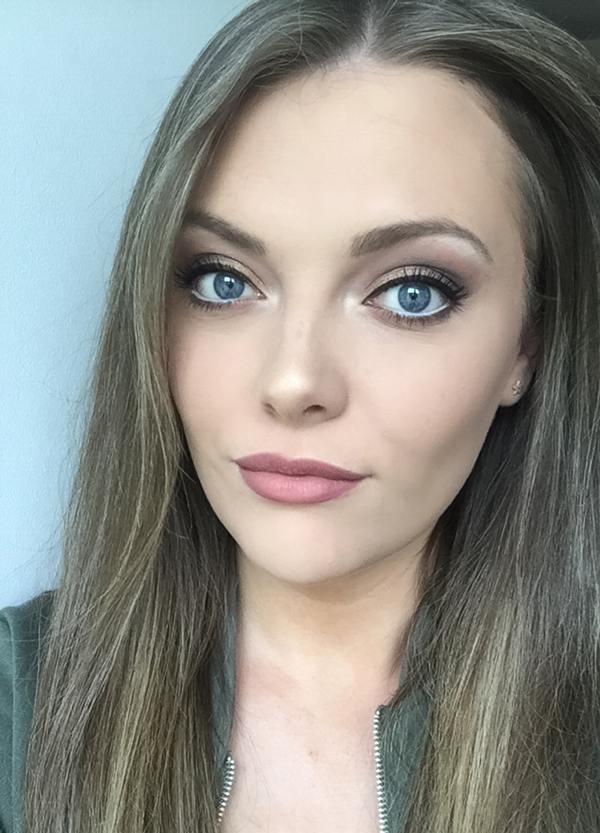 When I have done my eyes I apply Collection Lasting Perfection concealer under my eyes, down my nose and on my chin to highlight – again I blend this out with the damp sponge and find it melts into the foundation seamlessly and stays in place all day with no creasing. For powder at the minute I am using Rimmel Clear complexion translucent powder and I press this into my skin using the Real Techniques Buffing brush.
I use Benefit Hola bronzer to warm up my skin and lightly contour, then apply some Estée Lauder blush. I recently picked up a cheap fan brush from TK Maxx and use it with my Sleek Solstice highlighter palette on my cheek bones & the tip of my nose. I use NYX eye liner pencil in Milk on my waterline and Maybelline Lash Sensational Mascara. I fill in my brows with Anastasia Beverly Hills dip brow pomade in Medium brown using their double ended brow brush and comb. Finally I apply a neutral lip liner and Mac Velvet Teddy.
This makeup is generally applied at 7 o'clock in the morning and removed before I hop into bed after a long day. It lasts really well with only some lipstick touch ups and powdering needed throughout the day.
Do you use any of these products too?
Thanks for reading.
• Kirsty •