I always have an excessive number of perfume bottles on the go at once, I'm not one to stick to my favourite scent year round but prefer to change it up seasonly (and often daily) depending on how I feel and what scent I feel like wearing at the time!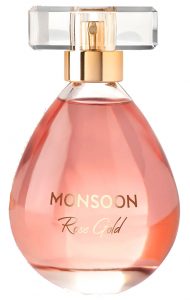 Recently I received two PR fragrances, one from Monsoon and the other Acessorize (much to my excitement as growing up Acessorize was always my favourite shop that I would just have to visit on every shopping trip – jewellery goals.)
The Monsoon fragrance is called Rose Gold and the Accessorize one is named Loved Lily. Both fragrances came packaged beautifully in boxes that complimented the glass bottles inside.
The Rose Gold Eau De Parfum bottle is a sleek rain drop shape bottle with flat T shaped lid – I got the 30ml version and the dinky bottle has been travelling round in my handbag since it arrived. It's perfect for top ups during the day and doesn't weigh down my bag. I suck at describing scents so have pinched the descriptions for both scents from the companies website.. Rose Gold is described as having 'top notes of sparkling lemon, soft fruit and ozonic scents are layered with velvety rose, tuberose, neroli and cyclamen, and underpinned with base notes of Eastern woods, vanilla, mosses, musk and balsamic amber.'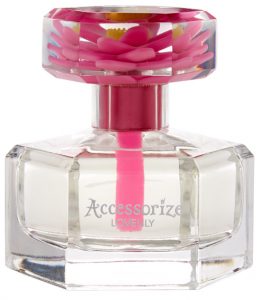 The Love Lily fragrance bottle is a work of art. I got the 75ml version so chunkier than the Rose Gold as it's much bigger. The beautifully designed bottle features a bright pink and yellow 3D looking flower in the lid which makes it the perfect perfume to display on a shelf or dressing table in your room. The fragrance is described by Accessorize as having 'notes of raspberry, orange, jasmine and sweet vanilla for a delicious concoction' – sounds good right?
I have never owned a fragrance from either shop before, having previously bought perfumes from department store beauty halls or the likes of Boots and Superdrug and rarely thought to pick up a bottle from a high-street store like Monsoon or Accessorise. These two bottles have definitely made me rethink that one!
Both fragrances would make a lovely gift for a loved one (or yourself #treatyourselfgirl!), and they won't break the bank either. The Rose Gold 30ml bottle retails at £24 and the Love Lily retails at £19 for 75ml.
Have you tried either of these two or any other fragrances from Monsoon or Accessorize?
What is your all time favourite fragrance?
Many thanks to Jess and Emma at Sparkle PR!
Thanks for reading!

 • Kirsty •