Around this time of year I get the bug to bake! It's Christmas Eve & I've decided to make some cookies for the festive period. I have made these cookies before, using Tanya Burr's Milk & White Chocolate Recipe. Here is the recipe for the delicious cookies that rival the infamous M&S cookies –
Ingredients
♡ 200g butter
♡ 300g caster sugar
♡ 1 large egg
♡ 325g self-raising flour
♡ A dash of milk  (if necessary)
♡ 200g white chocolate
♡ 200g milk chocolate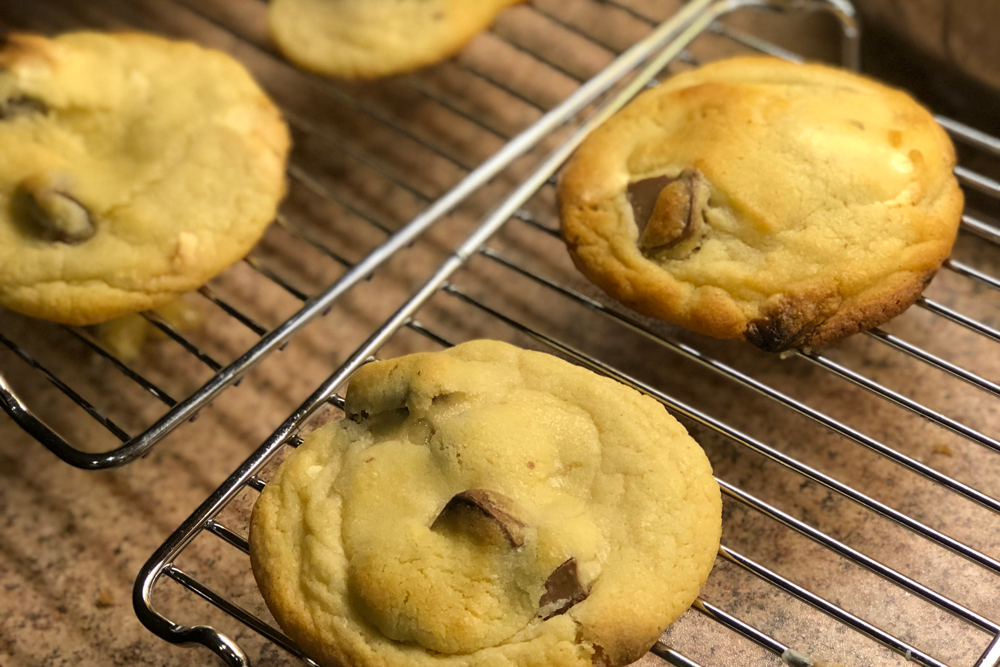 Method
♡ Preheat the oven to 200 degrees Celsius
♡ Beat the sugar and butter to create a light smooth mix
♡ Crack the egg and add it to the mixture
♡ Slowly add the flour (If the mix is dry you can add a dash of milk here)
♡ Break the chocolate into large and small pieces and mix into the dough
♡ Tanya recommends to split the mixture for 10 cookies but I made 16 out of the batch
♡ Place in the oven for 10-12 minutes – they may look like they need more time but don't do it! This is what gives them the lovely gooey centre.
Every time I make these cookies I think 'I'll try make them look better next time' and fail to do so every time. But they taste soooo delicious and that's the main thing! They even got the thumbs up from my fussy eater boyfriend.
The cookies are super easy and fun to make. I'd love if you tagged me in your cookie creations if you do follow the recipe.
Thanks for reading

• Kirsty •