Around November/December last year my hair was in the worst condition it had been in a long time. I have always had fine hair and in 2016 I started highlighting my brunette hair. I would use silver shampoo to take the brassiness out of the blonde but I found that no matter what brand I opted for it wasn't doing the condition of my hair any good – even if it did what it said on the tin and reduced the brassiness.
I would normally get my hair trimmed every 8 weeks or so when our hairdressers come out to our house, but due to unforeseen circumstances I had missed my last 2 appointments. My hair was dry and almost straw, like I had split ends at what felt like the end of every strand and no matter how much time I took over doing my hair I just hated how it looked and would end up throwing it up out of the way before going out.
I knew it was time to up my game on the product front so I went and spent my Boots Advantage Card points on OGX Biotin & Collagen shampoo, conditioner and oil. I wash my hair around 3-4 times a week and use the oil on wet hair before drying.
Fast forward to the end of December, just before Christmas Day. I was in town with my mum headed to our Christmas nail appointment. Mum was tired of listening to me complain about my hair so as we walked past a hairdressers she suggested I go in for a dry cut. I ended up chopping off 3 inches on a whim and straight away I was so pleased with it. Having started to nourish my hair with good products like a natural oil and then getting the chop just made my hair look one million times better.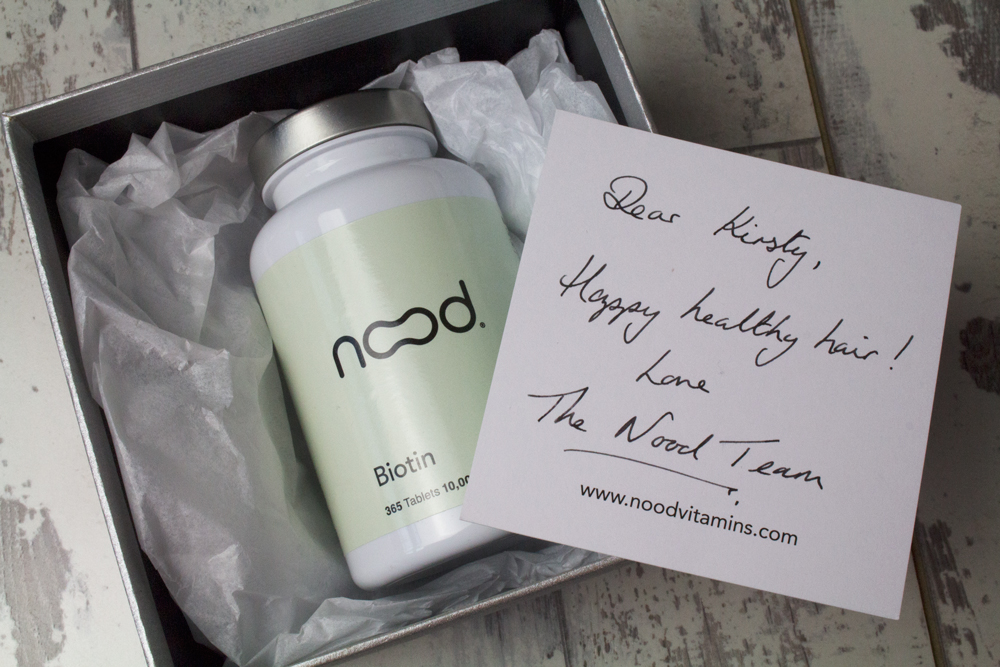 This month I have added Biotin Hair Vitamins from Nood Vitamins into my hair care routine. Nood Vitamins is a UK brand selling essential vitamins and supplements exclusively on Amazon. Biotin is also found in my shampoo & conditioner and it is a water-soluble B-vitamin which is naturally found in nuts, leafy green vegetables and egg yolk – it is used in products to help support the maintenance of normal skin & hair. With the addition of these fab vitamins my hair is sure to get stronger and healthier again over the next few months.
I have continued using the OGX products and I'm definitely a convert – I always thought shampoo was shampoo and opted for the best bargain but having started using Oils for hair loss which is something slightly pricier I can definitely see a massive difference. I have also had another inch chopped off and I'm all about the short hair speedy drying life!
The Biotin vitamins are vegetarian friendly and you can purchase them Here.
Thanks for reading!

• Kirsty •