Recently I've been trying out CB12's range of oral care products. Although bad breath isn't a concern of mine, I do love to look after my teeth and gums. CB12 sent me out 5 of their oral hygiene products including 3 mouth washes, their Boost chewing gum and mouth spray.
CB12 Mouthwash, CB12 Mouthwash (Mild) & CB12 White
These mint/menthol flavoured mouth washes are clinically proven to have a 12 hour breath neutralising effect. The packaging is simplistic and professional and they come in a variety of sizes including 50ml, 250ml and 1000ml.
Daily use is recommended for anyone over the age of 12. Instructions state to rinse with 10ml for 30 to 60 seconds in the morning or evening or both to achieve a 24-hour effect and use CB12 White both morning and night to achieve whitening effect.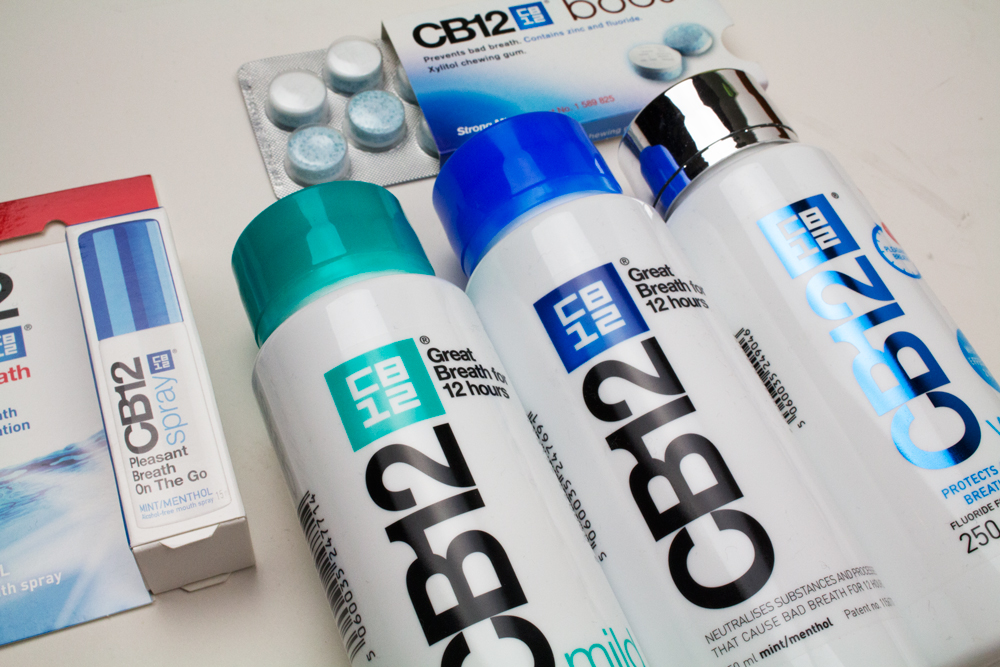 CB12 Boost Chewing Gum
This is definitely my favourite product I have tried from CB12. I always have chewing gum on me for after meals or a coffee stop. This gum is next level and you can really feel a difference in taking a piece of Boost gum over anything else. For use during the day as a complement to CB12 mouthwash, the sugar free gum has a strong mint flavour and also includes ingredients that prevent plaque growth – winning.
Recommended use – up to 5 pieces a day
Products from Amazon.co.uk
‹
›
CB12 Spray
Great for on the go, the handy spray has a minty flavour.  Recommended use is 1-2 pumps 2-3 times a day for anyone over the age of 12. I carry the spray with me in my handbag and it's perfect for travelling with to freshen up throughout the day.
The patented formula neutralises odorous volatile sulphur compounds in your mouth that cause bad breath every day.
CB12 have worked with celebrity Ferne McCann to produce a series of YouTube videos… check them out HERE
Thanks to Sarah who sent over the products for me to try. Check out CB12s website for more information HERE.
Thanks for reading!

• Kirsty •