I'm so pale I could give Casper the ghost a run for his money. It's not something that has ever bothered me, but I do like to have a little bit of a glow during the summer months! So while my friends start evolving into sun kissed goddesses, I slap on the suncream and get my tan from another bottle.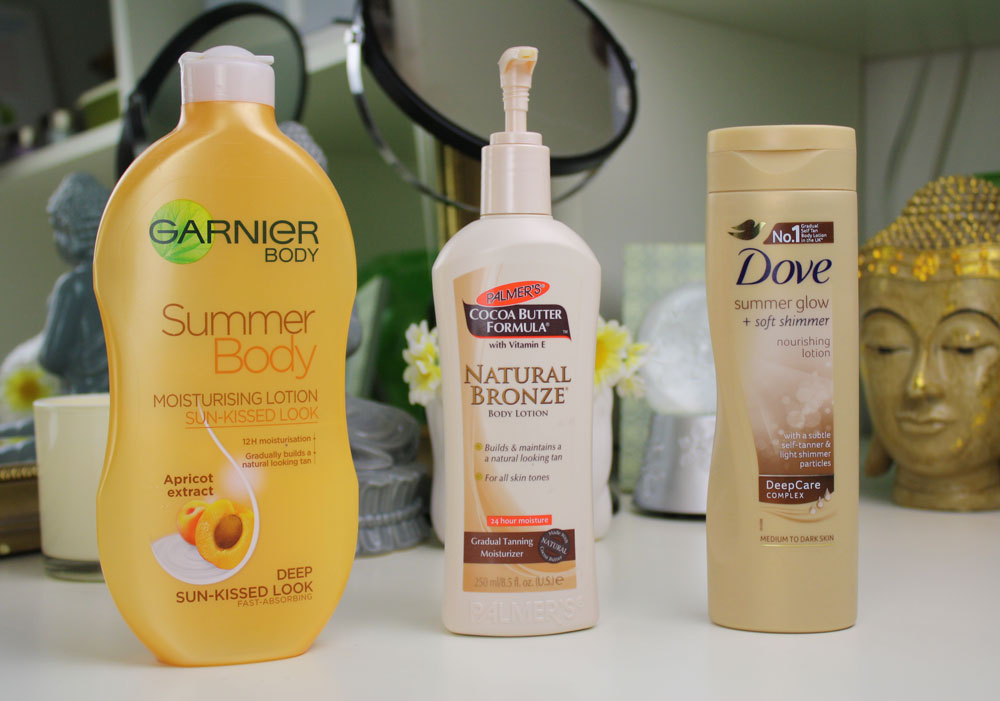 I have always been on the search for a good tanning product, and I like to think I've come a long way from the £2.99 St Moriz cheesy wotsit look I often sported in school. (Not a good shade for me!)
So after trying what feels like a tanning product from every brand on the shelf – Vita Liberata Tanning Mousse, No 7 Spray Tan, WhitetoBrown Lotion, Dove Summer Glow,  and St Tropez to name just a few – I think I have found my all time favourite.
And the winner is *drum roll please*…. Palmers Natural Bronze Body Lotion. This product has fast become a holy grail product for me, I'm obsessed! It has a unique 'biscuity' scent which smells amazing, and it doesn't break the bank either. It is very reasonable compared to competitor's products, retailing at under £6 for the 400ml bottle – and is normally on offer in Gordon's Chemist.
I use a disposable latex glove to apply the tan (which you can pick up in your local pound store or online super cheap.) It applies so smoothy, and gives a really even, natural looking golden glow to the skin. It dries almost instantly and it isn't greasy, which is a problem I've had with a lot of gradual tanners – they take forever to dry and start to irritate my skin.
I'm the kind of person that is drawn to products by the packaging, and have even been known to buy something just because the packaging looks cute. So the fact that this bottle has a pump was an original selling point for me, I find it so much more convenient than a squeeze tube.
I would recommend exfoliating and applying a good moisturiser to dry areas such as the knees, feet, ankles and elbows before application. I've been loving using Soap & Glory's Breakfast Scrub lately, it's great and smells delicious!
This would be a great product for people who are hesitant on trying/using fake tan as it gives a very natural glow and is so easy to apply. Give it a try, your skin deserves it!
What are your favourite tanning products?