I am always on the lookout for natural, paraben free products. Parabens are synthetic preservatives used in cosmetics to prevent the growth of harmful bacteria and mold. Worryingly parabens are able to mimic or interfere with estrogen levels in the body, and exposure to estrogen is one of the primary influences on the development of breast cancer – so it is best to avoid them when possible. Over the last year I have been slowly converting to Paraben free makeup and skincare. This month I have been trying a range of items from Aloe Natural. Their products are all paraben free, as well as containing organic Aloe Vera from the Canary Islands and being 100% cruelty free with no allergens.
Aloe Vera comes with a long list of benefits for the skin. It can be used to treat sunburn, it acts as a moisturiser, treats acne, fights aging, reduces stretch marks, the list goes on..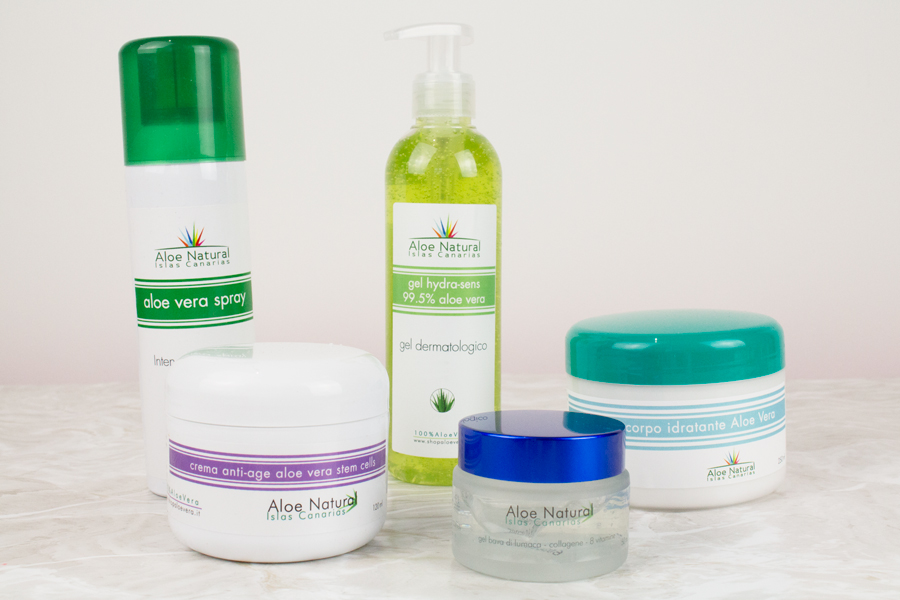 I was sent the following products to try –
» Aloe Natural Body Cream – this cream has a light texture and absorbs quickly. Rich in minerals and vitamins as well as amino acids which support natural skin functions and stimulate the cells to produce more collagen and elastin.
» Aloe Natural Snail Regenerative Gel – renowned for helping problem skins with acne, scars, stretch marks, wrinkles and blemishes. The Snail Regenerative Gel contains snail slime extract, 8 vitamins and collagen to care for your skin while keeping it hydrated and removing toxins.
» Aloe Vera Spray – refreshing spray that moisturises, refreshes and revitalises the skin. Can be used as a refreshing deodorant, after sun exposure, on insect bites or after shaving. I will definitely be bringing this spray on my next sunny holiday!
» Aloe Vera Stem Cells – to be used on the face, this cream contains natural stem cells from the Aloe Vera plant. It can be used morning and night to hydrate and protect the skin.
» Aloe Vera Gel 99.5% Aloe Natural – my favourite of the bunch. This gel can be used to treat irritated skin, insect bites, eczema, acne, spots, dermatitis or burns. It gives an instant cooling and soothing effect and also gives immediate relief for dry skin.
You can check out Aloe Natural Here. Are you conscious of parabens in your products?
Thanks for reading.

• Kirsty •